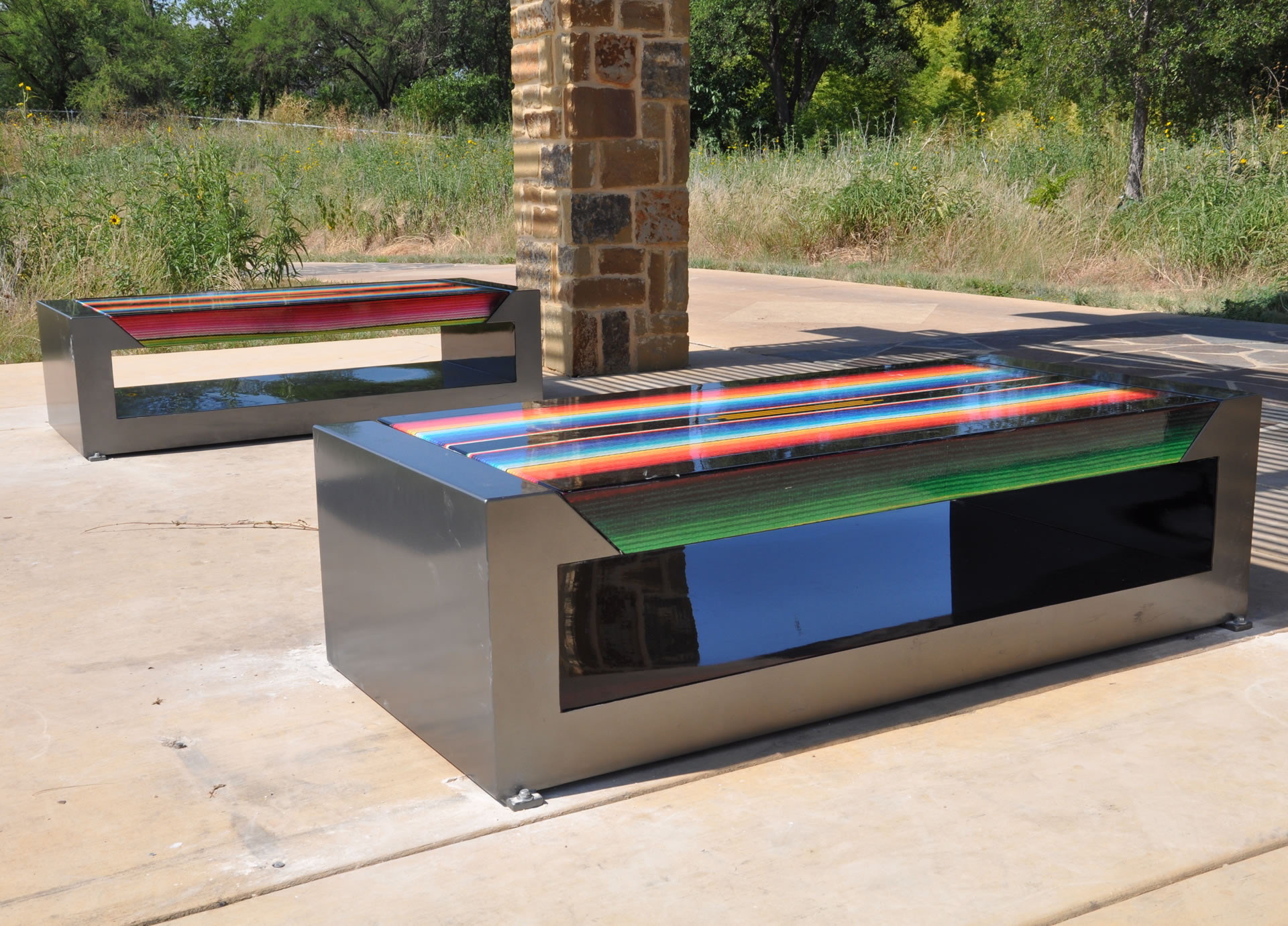 Serapes
Vincent Valdez
North of Confluence park near Mitchell St
Drawing on elements of Latino culture in south Texas, Valdez's art bench was inspired by two very different sources:  the opening of the movie 2001:  A Space Odyssey and two vintage serapes given to him by his grandmother. The movie sequence reminded Valdez of how rapid change and development can often replace the old with the new, but the San Antonio River Improvements Project ultimately merged the old and the new to create an inspiring space.
"I wanted to create something that was going to stop someone on their morning jog, capturing what I feel is happening in this city. We're going through so many changes. There's more of an awareness of ecology, spending time outside, being a part of nature, adapting to change and embracing new activities. San Antonio has been on the verge of something for a long time and now is that time. The bench is my interpretation as an artist and citizen of San Antonio, reflecting on our city and where we're headed," explains Valdez. "The Mission Reach is a fantastic project. I grew up on the South Side and seeing this project come to life is exciting. It is a marrying of the old and the new."
The vintage serapes inspired the palette of colors featured on the bench, the design of which also references custom car design with sleek, automotive pinstripe detailing that wraps around the entire seat portion of the bench. A longtime fan of low riders and the custom art pinstriping featured on the cars, he collaborated with San Antonio's Get It Up Productions to fine tune the bench striping.
Our special thanks to Patricia and John Smothers for donating this art installation.
The San Antonio River Foundation commissioned and funded public artworks for the benefit of our community and in support of our partners in the $384M San Antonio River Improvements Project. All works along the Mission Reach have been donated to the City of San Antonio's public art collection in perpetuity.